LoL ELO Boost
Your leading League rank-up experience.
Our features pick
Enjoy the finest features.
Appear Offline
None of your friends will see the booster playing on your account.
24/7 Live Support
Rely on our professional support team 24/7.
Order Tracking
Track your order efficiently and effortlessly through the client's area.
VPN Encryption
Your account remains safe with our advanced VPN system.
3-10% Cashback
Receive significant discounts, cashback rewards on all orders, and free LoL accounts.
An effortless rank-up process.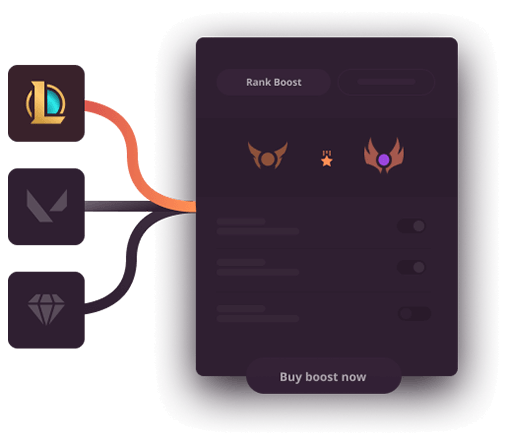 Select Your Favored Service
First, select your game and method of ranking up. There are various ways to reach your desired goal. Choose the one which fits most to your needs.
You can always talk to us on live chat if you need help.
Free additional customizations.
Intuitive and straightforward purchase process.
Get started
1- Select Service
Select and customize your desired service.
2- Complete Payment
Choose your preferred payment method.
3- Rank-up
Follow your order and live chat with your booster.
Read more about BoostRoyal
The essence of Level Boosting
In season 8 Riot finally unlocked the 30 level barrier in LoL. The unlocked level index is finally offering a proper way for players to show off how much effort they put into their LoL accounts. Reaching spectacular heights regarding leveling takes an immense amount of time from the user. Level boosting from Boostroyal is a new innovative service, focusing on League players looking to increase their account level with the help of a competent booster. The principle of level boosting is to reach a target level required from the customer within the shortest possible time frame. To attain extraordinary results in leveling, our qualified boosters will play on the user's account to earn XP and level up in the process.
Perks of the new unlimited Levels system
With the long-awaited upgrade from Riot, well performing LoL players finally received a new reward system which is capable of correctly measuring their time spent playing the game. Another from measurement, the unlocked level system in the game gives additional motivation for LoL players. From now on, players who are contesting with each other, will not only be able to compare their achievements in the game by their ELO but they can also use the account level indicator. Another additional exciting feature is the new reward system. By playing normal or ranked games on your LoL account, you will be rewarded with new and exciting rewards each time you level up.
Boost up your LoL account
By purchasing a level boosting from Boostroyal, League players will earn the rewards from gaining levels the quickest viable way. If you are planning to compete with your fellow players in terms of reaching higher and higher, utilizing level boosting is the most comfortable way to do so. Composing the competitive price point and the outstanding performance of the boosters, Boostroyal offers an exceptional level boosting experience for LoL. Compared to other alternatives throughout the segment, it is clear to see for any future participant of this service the advantages and exclusivity that Boostroyal offers. Enjoy this new service from BoostRoyal, the only official LoL boost company with a wide range of excellent LoL related services.
Don't waste more time in low ELO
Start playing on your new rank today.
Rank-up now